PhD, Faculty of Environmental and Urban Change, York University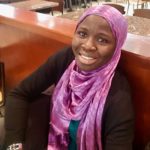 Osman hails from Ghana and is an international doctoral student at the Faculty of Environmental Studies, York University. Before starting her PhD, she worked for the United Nations International Fund for Agricultural Development (IFAD) in Rome, Italy, and the United Nations Office for Project Services (UNOPS) in Myanmar, mainly on food security program implementation and agricultural risk management policy analysis, knowledge mobilization and dissemination. She also has experience with community development, water and sanitation, gender awareness training, rural research, and advocacy. She holds a BA in Geography and Rural Development and two master's degrees, one in International Development, Poverty, and Inequality, and the other in Sustainability Management.
Balikisu is currently conducting fieldwork in Ghana and is implementing data collection and dissemination activities in collaboration with a local non-governmental organization - Youth Harvest Foundation Ghana (YHFG) - based in Bolgatanga.
The YHFG is assisting Balikisu's fieldwork activities by providing leads for community entry processes and consultations, contacts with farmer groups, recruiting research assistants, providing advisory support on preliminary findings, providing space for research meetings and related dissemination seminars, among others.
Balikisu Osman, a recipient of the prestigious Vanier Canada Graduate Scholarship for 2020, will conduct research on the climatic risks and household responses for sustainable food security in the northern savannah areas of Ghana. Accordingly, while the country has a climate change policy with a strategic priority focus on developing climate-resilient agriculture and food systems, a major challenge is the paucity of research identifying indigenous knowledge and best practices to achieve the policy goals. Further, while several studies have explored the link between climate change risks, household responses, and food security in northern savannah, there is limited knowledge on how climate change is extending the length of hungry months – the time when households have finished eating up food harvests and must rely on other sources. Specifically, there is a lack of understanding of the experiences of vulnerable food insecure subsistent smallholders in responding to and surviving the hungry months.
"My research is premised on the principles of community participation, knowledge exchange, experience sharing, and communication through extensive partnerships and collaborations with smallholder farmers, local researchers, community-based organizations, and government and non-governmental agencies to facilitate the research transparency, credibility, and applicability," says Osman. In particular, "the research will ensure maximum involvement of the communities and empower the target smallholder farmers, especially women," she adds.
QES Project: Climate risks and household responses for sustainable food security in northern Ghana