PhD, Faculty of Environmental Science, Universidad de Concepción, Chile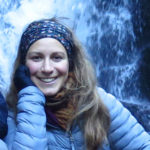 Camila Bañales-Seguel's professional trajectory has focused on outdoor environmental education and consultancy specialized in fluvial geomorphology, land-use planning, and native forests. She has collaborated in research projects in areas such as wildfire risk, rural-urban interphase, meso-carnivore diversity in mixed landscapes, and the hydro-ecological characteristics of nearly pristine river basins in Patagonia.
Her interest in participatory science was sparked by a project of wildlife monitoring using trap cameras with students from rural schools in Araucarias Biosphere Reserve. Another experience where science and participatory education merged was working with the NGO Ríos to Rivers which conducts educative expeditions on rivers to empower youth from different countries to become guardians of their local rivers.
Camila is currently working on her PhD thesis studying rivers as social-ecological systems through the articulation of scientific and local indigenous knowledge in Wallmapu, Mapuche ancestral territory in Southern Chile.
QES Project: Keuko Leubü: Learning and living with the Queuco river in Pewenche territory
E-mail: caspicamila@gmail.com