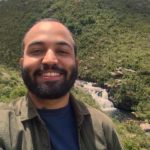 Forest Engineer at UFRRJ (2017), MSc in Environmental and Forest Sciences at UFRRJ (2019) and currently Ph.D. Student in Environmental and Forest Sciences/UFRRJ.
Marcondes has experience with management in socio-ecological systems, such as governance of protected areas, environmental and forestry policy, and environmental perception. He is a member of the Study Group on Economics, Administration and Forest Policy at UFRRJ; student member of the Ecosystem Services Partnership (ESP), and affiliated with the Young Ecosystem Services Specialists (YESS).
Marcondes is interested in research exploring socio-ecological resilience in traditional territories and communities. For him, these studies are a strategy for developing an understanding of the dynamic relationships between man and nature for the conservation of socio-biodiversity and the promotion of human well-being. Therefore, he is focusing his studies on the Ethno-conservation of soil ecosystem services, as the soil can be a basic natural resource for ecological economics, commons governance, and climate justice.
Research Project: Ecosystem Services and Ethnopedology in Cultural Landscapes of Paraty/RJ, Brazil.
The main objective this project is to evaluate the current socio-ecological resilience status of the Traditional Community of Quilombo do Campinho da Independência, relating it to the Sustainable Development Goals of the UN 2030 Agenda, the ecosystem services provided by the soil and to human rights for the families to remain in their territory, based on the citizen science. With this project, we hope that residents will be able to obtain a technical-scientific document on the territory that they have been struggling to guarantee land rights and associated uses. Thus, it will be able to contribute locally to better management of natural resources and land use planning, and nationally to the implementation of the Política Nacional de Gerenciamento Territorial e Ambiental de Quilombos (national policy).