Project by Francisco Araos
This project aims to contribute to the implementation process of Marine Coastal Spaces for Indigenous Peoples (ECMPOs) with citizen science tools to face environmental and climate change impacts over coastal zones.
ECMPOs are emergent marine commons tenure arrangements that protect key habitats and the human well-being of Indigenous peoples of Chile. This project proposes to implement the following participatory tools: biodiversity monitoring, water quality, and GIS, with the indigenous communities of two ECMPOs of Los Lagos Region.
Francisco's fieldwork with ECMPO Carelmapu Indigenous communities--the largest group in an urban/rural context, 150 people in 6 indigenous communities--started in October 2020.
ACTIVITIES EXECUTED AND IN PROGRESS
Webinar "Conversaciones en la Tempestad": Since June 2020, Francisco has organized the Webinar "Conversaciones en la Tempestad" a virtual talk with local Indigenous leaders, NGOs, and Scientists, about the multiples dimensions of socio-environmental effects of climate change, extractive industries, and its environmental impacts over the coastal ecosystem and local livelihoods.
https://www.youtube.com/watch?v=Gu8nF9Q-H7Y
https://www.youtube.com/watch?v=CY5CFns8zfU&t=1s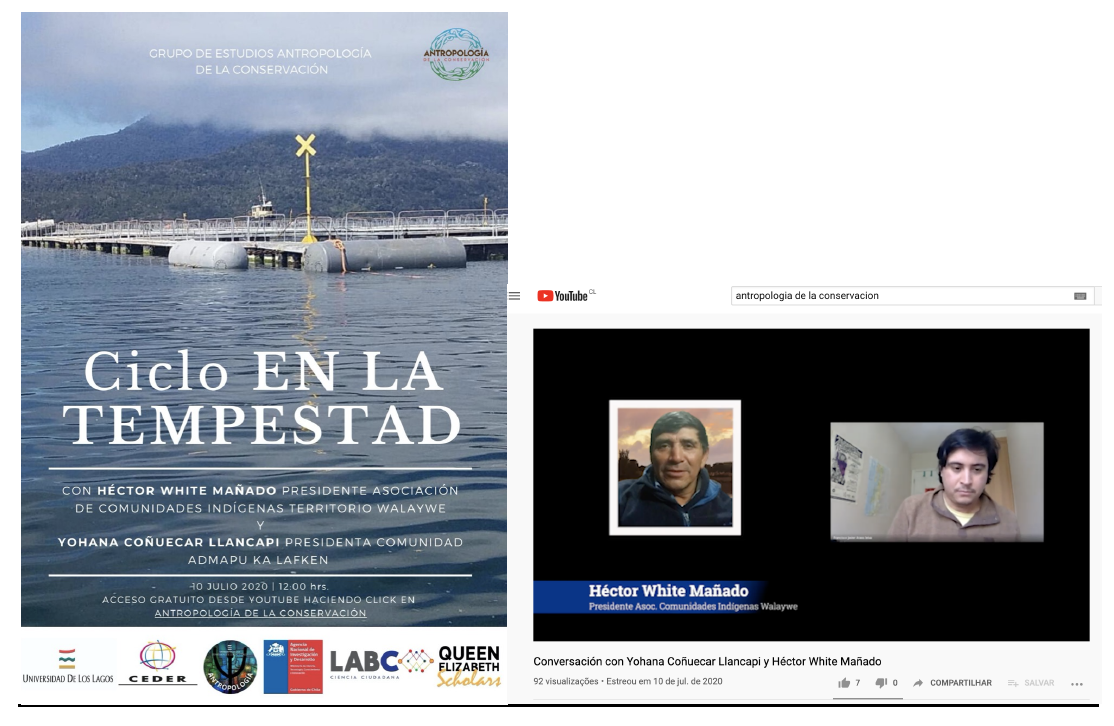 Virtual ZOOM meeting | QES-AS Climate Justice
03-06-2020 – 16:00 – 17:10. The QES Climate Justice team of Scholars organized a virtual meeting to discuss their respective projects in Latin America.
Watch on youtube: https://www.youtube.com/watchv=i3H_3szrZ54&feature=youtu.be
The multidisciplinary research group - environmental engineer, anthropologist, forestry engineer, lawyer, biologist, and sociologist – brought participants from Chile (Allan Iwama and the Francisco Araos - Universidad de Los Lagos) and from Brazil (Marcondes Coelho Junior, Universidade Federal Rural do Rio de Janeiro; Katia Carolino, Universidade de São Paulo); Daniela Campolina, Universidade Federal de Minas Gerais - UFMG and Aico Nogueira, Universidade de São Paulo).
The researchers introduced themselves, commenting on the subject that they have been working on and the difficulties of researching the COVID-19 pandemic. Considering these difficulties, the QES organized a collaborative agenda to work seeking synergies between research projects and strengthening the QES Climate Justice network.
The initial activities of this QES Latin America agenda were:
Organize a virtual panel as activities of communication and collaboration of the Laboratory of Citizen Science in the Universidad de Los Lagos (LabC-Ulagos) for the 2nd semester of 2020.
Sharing material from each of the QES projects, to disseminate information about the projects through videos, photographs, and practical activities. This activity has the purpose of gathering material to prepare a policy brief on how climate justice encompasses different themes on disaster impacts and climate change, mining and water security, ecosystem services and traditional community, marine areas for the indigenous community, and commons governance from the study with community gardens.
As part of an initiative by the LabC-Ulagos, the researchers intend to catalog the open and citizen science initiatives on a global scale, to prepare an article, and to discuss how this theme has emerged in Latin America and Africa, which 5 are countries that are part of the QES Climate Justice project, and what a level of collaboration and involvement these projects have been carried out in practice.
Finally, the QES scholarships are organizing a workshop on "Citizen Science: how to scale-up the actions" for the 1st semester of 2021. This meeting was the first opportunity for QES scholars to seek solutions to work during the Covid-19 pandemic and create synergies to strengthen the exchange and network of QES Climate Justice projects.
Biodiversity Monitoring database and toolkit: We prepared a database based on the review of scientific papers and gray literature related to "biodiversity participatory monitoring and indigenous peoples in Latin America". This review has been used to prepare the biodiversity monitoring toolkit and a future scientific paper.
Mentoring: The Thesis of the student Gonzalo Zamorano (Geography - Universidad de Chile) has been included in the project. Mr. Zamorano will be developing the GIS Platform of ECMPO Carelmapu as part of the main goal of his thesis related to the analysis of the spatial disputes and conflicts of the ECMPOS of the Los Lagos Region.
Paper submitted to Current Opinion in Environmental Sustainability
Title: Multiple knowledge systems and participatory actions in slow-onset effects of climate change: insights and perspectives in Latin America and the Caribbean.
Authors: Allan Yu Iwama; Francisco Araos; Jeremy Anbleyth-Evans; Francisco Ther; Victor Marchezini; Gonzalo Bacigalupe; Arturo Ruiz-Luna; Patricia Ellie Perkins.
Abstract: This paper advances the literature on multiple knowledge systems, showing how Traditional and Local Knowledge (TLK) systems can collaborate with scientific knowledge to slow-onset the effects of climate change adaptation in Latin America and the Caribbean. This paper acknowledges the cultural heterogeneity of traditional (e.g. indigenous) knowledge and local knowledge, and how this can link to practical actions to adapt to climate and global change. Integration of TLK with scientific knowledge in impact and risk assessment may be necessary to develop both short and long-term planning. This paper reviews how and why TLK needs to be integrated into climate change adaptation in Latin America and the Caribbean (LAC). It offers a critical perspective and a vision toward the realization of TLK on climate risks and adaptation in LAC.
Status: Under review.
Sentinels of Carelmapu/Centinelas de Carelmapu
The "Asociación de Comunidades Mapuche Huilliche de Carelmapu" is an indigenous organization that joint six indigenous communities: around 180 persons. This organization requested in 2018 the Marine and Coastal Space of Indigenous Peoples of Carelmapu (Espacio Costero Marino para Pueblos Originarios - ECMPO in Spanish). ECMPOs are conservation and management marine protected areas that protect the customary uses and livelihoods of the indigenous communities settled in the coastal zone, which have expanded in the south of Chile over the last 10 years. Destined initially to recognize fisheries rights in small areas, many of them are oriented to marine conservation and sustainable, inclusive development protecting large marine areas. Hence, the ECMPOs have arisen as the main institutional response to the environmental degradation of the marine zone of the Chilean Patagonia, offering an ancillary instrument to marine conservation and to promote inclusive marine governance.
To support the ECMPO Carelmapu's implementation, a citizen science program called "Sentinels of Carelmapu" was developed. The program contained:
1) "Sentinels of Carelmapu" : A group of 5 persons (2 women and 3 men) of the indigenous communities of Carelmapu applied the "Participatory Monitoring Methodology" in the ECMPO Carelmapu. The monitoring focus on biodiversity, environmental threats, and cultural heritage dimensions. Before collecting data, the Sentinels received methodological training from the ULAGOS Citizen Science Lab. (LabC-ULAGOS) team. The information was collected from March to May of 2021 using cellphones to register a picture, video, audio describing the observation realized and a location point and shared with the team of the LabC-ULAGOS. The data collected was organized and validated by the LabC-ULAGOS, and presented through a personal logbook. The geographical scale covered by this project was local, associated with the ECMPO area, with the possibility of covering a larger area with this initiative. The geospatial localization was integrated into a SIG platform available at the website of the Sentinels: www.centinelascomunitarios.cl (under construction). The methodology and the experience of the Sentinels of Carelmapu are presented in a video available in the Citizen Science Lab Youtube Channel: https://www.youtube.com/watch?v=eYpsuEy5MUw. This experience is the first citizen science program oriented to ECMPOs in Chile and represents the first step to scaling up Community Sentinels across the Chilean Patagonia. From December 2021 we are implementing the "Community Sentinels" program with other organizations of Carelmapu and in other territories: i. The monitoring of the ECMPO Carelmapu submarine area within the Asociación de Comunidades Mapuche Huilliche de Carelmapu, including some of the 5 Sentinels and other people from the indigenous communities; ii. Carelmapu Highschool: monitoring with local students; iii.Kuruspuyewe Lagoon at Osorno Province, Los Lagos Region (in partnership with Rayen Ko Lafken Mapuche Huilliche Indigenous Community); iv. Metri Beach, Puerto Montt city, Los Lagos Region (in partnership with Montemar local environmental organization), with the co-funding of QES Scholar, Universidad de Los Lagos regular fund, National Indigenous agency (CONADI), Ministry of Environment (MMA). This partnership allows the continued expansion of "Community Sentinels".
2) "Community Sentinels" toolkit: The toolkit is available in paperback and online versions and contains the monitoring methodology and the Sentinels of Carelmapu experience. The toolkit can be downloaded in Spanish and English versions on the website: http://www.cienciaciudadana.ulagos.cl/index.php/noticias/item/181-lanzamiento-version-digital-guia-metodologica-para-realizar-monitoreos-participativos-comunitarios. The paperback book was distributed within indigenous communities, and local actors in a ceremony celebrated at the Carelmapu High School on December 1st, 2021 (see the streaming video at: https://www.youtube.com/watch?v=opZRzhtlIfM). We are using the toolkit with the new Sentinels initiatives described above.
3) The above-mentioned Webinar "Conversaciones en la Tempestad"
For more information regarding this project, please visit: http://cienciaciudadana.ulagos.cl/
Francisco recently produced a video regarding Chile's Indigenous Marine Areas´ policy in to support indigenous communities.
Indigenous Marine Areas or ECMPOs in Spanish (Espacios Costeros Marinos para Pueblos Originarios) are coastal and marine protected areas designed to safeguard customary uses and livelihoods of indigenous peoples settled in the coastal zone.
This video explains the ECMPOs application process, the definition of customary uses, and their contributions to marine sustainability.
This outreach video is supported by: QES Climate Justice - York University and ANID/ ONDECYT Project 11180066 - Universidad de Los Lagos.
For more information, please visit: www.antropologiadelaconservacion.cl