Ph.D. registered candidate at the University of Johannesburg, South Africa
Supervised by Professor Mary Galvin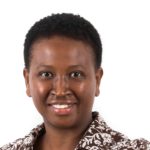 Patience is a Ph.D. student in Development Studies at the University of Johannesburg, South Africa. Her research interests are broadly around water governance, equity, and justice. As such, her Ph.D. research focuses on the smallholder farmers of a catchment in South Africa and how they perceive and conceptualize their agency in attaining water security in a context riddled with past and present inequity.
Her involvement in the water sector began as a Quality Control Chemist in a water testing laboratory. This eventually led her to pursue further studies in Environmental Science at IHE-Delft Institute for Water Education, where she obtained a Master's degree. Her other interests include transboundary water management and she has also worked in research and consulting roles before embarking on her Ph.D.
QES Project: Water Security for the Inkomati Catchment Smallscale Farmers: Understanding Equitable Water Allocation in a Post-Colonial South Africa
E-mail: pmukuyu@gmail.com