University of Yaounde I, Yaounde, Cameroon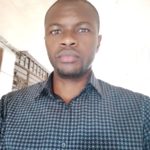 Geographer, Master in Physical Geography, Specialized in Environmental Dynamics and Risks (University of Yaoundé I, 2018).
Donald's research work for obtaining the Master mainly focused on the forest dynamics linked to the extensions of industrial and village palm groves in the Edéa arrondissement.
Since December 2018, Donald has been a PhD student in the Geography Department; Faculty of Arts, Letters and Human Sciences (FALSH), at the University of Yaoundé I. He is also an assistant at the Global Mapping and Environmental Monitoring (GMEM) research office, Yaoundé.
QES project
As part of the QES project, Donald is preparing a doctoral / PhD thesis on the subject: Oil palm cultivation, socio-environmental change and climate justice in the district of Ngwei, Littorale-Cameroon.
He has recently completed the bulk of his fieldwork with oil-palm farmers and community organizations affected by climate change in Ngwéi (southwest coastal area of the country). He is now working on writing the results of the fieldwork.
E-mail: abassguydonald@gmail.com