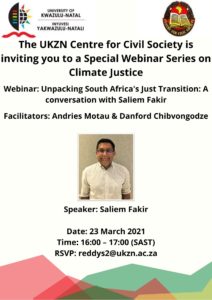 Webinar: Unpacking South Africa's Just Transition: A conversation with Saliem Fakir
Speaker: Saliem Fakir
Facilitators: Andries Motau & Danford Chibvongodze
Date & Time: Tuesday 23 March 2021, 16:00-17:00 SA Time
Zoom Registration:
https://ukzn.zoom.us/meeting/register/tJYlf-mvqTgrGdHfx5oFctXhSkUP6fsG39K9
Topic
In this webinar, Saliem Fakir will be unpacking what the Just Transition means in the context of a developing country such as South Africa. He will be tackling questions on South Africa's readiness for such a transition. In this conversation, Saliem will highlight the role that different stakeholders within the Just Transition have in creating inclusivity amongst the marginalized. He will also highlight what South Africa needs to prioritise for a successful transition and what this means for Climate Justice.
Speaker Bio
Saliem Fakir is the Executive Director of the African Climate Foundation. Prior to establishing the ACF, Saliem served as the Head of the Policy & Futures Unit of WWF South Africa for 11 years. Saliem has worked as a Senior Lecturer at the Department of Public Administration and Planning and an Associate Director for the Centre for Renewable and Sustainable Energy at Stellenbosch University. Prior to that, he served as Director of the World Conservation Union, South Africa (IUCN-SA) for eight years. Saliem has served on a number of Boards and is a prolific writer who contributes regularly to leading South African publications like Engineering News, Business Day, and the Daily Maverick.